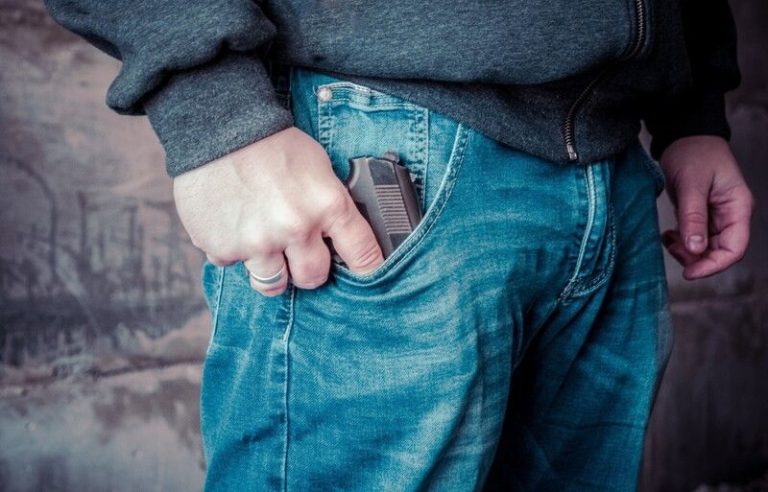 Ohio law prohibits individuals intoxicated by alcohol or drugs from carrying a firearm.
For obvious reasons, Ohio lawmakers doubt the decision-making ability of anyone under the influence of drugs or alcohol.
By punishing individuals drunk while carrying a gun, this law aims to deter others from committing the violation.
If you're facing charges for possession of a firearm while intoxicated, you could end up dealing with serious penalties.
Consult with an experienced firearm possession attorney to determine what penalties apply to your case and how best to deal with them.
Contact us online or call (937) 222-1515 today for a free consultation.
When Do Possession of a Firearm While Intoxicated Charges Arise?
As a general matter, Ohio allows individuals to possess firearms. Ohio even offers eligible persons the option of obtaining a concealed carry permit, allowing them to possess a concealed weapon.
However, Ohio law, under section R.C. 2923.15 prohibits anyone from "carrying or using" a firearm while under the influence of alcohol or drugs of abuse.
Thus, you cannot carry a firearm in your vehicle if you're operating the vehicle while under the influence. Therefore, most of these charges arise along with driving under the influence (DUI) charges or operating a vehicle impaired (OVI) charges.
Please note that there is a BIG distinction between what Prosecutors need to prove between being charged with OVI in Ohio and "under the influence" of alcohol in Ohio while carrying or using a firearm.
In an OVI charge in Ohio, A person can consume alcohol and drive AS LONG AS they are not impaired. Law enforcement will routinely test a person's blood-alcohol level to determine if that person is OVER the legal limit.
Please note that when a person is charged with Using a Weapon While Intoxicated, law enforcement DOES NOT need to prove a certain level of impairment.
The statute for this offense ONLY requires the State of Ohio to prove: "that a person WAS UNDER THE INFLUENCE OF ALCOHOL (or any drug of abuse).
This means that simply having a single beer (or a portion of a beer) MAY constitute as "under the influence."
What Counts as Carrying or Using?
The prosecutor can charge you for being "under the influence" of alcohol while possessing a firearm even if you don't have the weapon readily accessible.
Courts have upheld convictions for this offense when the firearm was found:
Inside the vehicle's glove compartment,
Inside a bag or purse, and
In the backseat.
If you were charged with using weapons while intoxicated after authorities found a firearm in your vehicle, contact one of our attorneys at Gounaris Abboud, LPA, to discuss your options.
Penalties for Possession of a Firearm While Intoxicated
Ohio law considers possession of a firearm while intoxicated a first-degree misdemeanor. First-degree misdemeanors carry the potential of up to 180 days in jail and a fine of up to $1,000.
Even if you have a concealed weapons permit, you could face a conviction.
But remember, prosecutors rarely charge this offense on its own. This charge most commonly arises in conjunction with a DUI/OVI charge, which carries more severe potential penalties.
For a first-offense DUI/OVI conviction, the driver faces:
At least three days but no more than six months in jail,
Mandatory license suspension for at least six months, and
A fine of up to $1,075.
A second DUI/OVI conviction carries the following potential penalties:
At least ten days but no more than six months in jail,
Mandatory license suspension for at least a year,
A fine of up to $1,625.
If your blood alcohol level (BAC) is above 0.17%, you will receive more severe penalties.
In addition to the criminal penalties, a misdemeanor conviction—especially those concerning driving under the influence—can also result in other consequences, such as:
Increased insurance premiums,
Difficulty obtaining employment, and
Inability to secure certain housing.
After serving your sentence and paying your court fines, you will suffer the financial consequences of having a misdemeanor conviction on your permanent record.
Facing Charges for Using or Possession of a Firearm While Intoxicated? Consult with an Ohio Firearms Attorney Today
An experienced firearms possession attorney with Gounaris Abboud, LPA, can help you understand what penalties are associated with the criminal charges filed against you.
Depending on the circumstances of your case, an attorney can negotiate with the prosecutor to have your sentence reduced or have your charge dismissed entirely.
Our team has more than 30 years of collective experience in the courtroom.
Attorney Nicolas G. Gounaris, one of our managing partners, has experience as a prosecutor, magistrate, and acting judge, giving him a unique outlook when it comes to defending criminal cases.
Additionally, Mr. Gounaris received nominations from his peers to the Super Lawyers list for ten consecutive years, from 2012 through 2021.
Further, Mr. Gounaris has been recognized by the National Academy of Criminal Defense Attorneys (NACDA) as a "Nationally Ranked Top 10" in 2014 and 2015 and was named as a recipient of the "10 Best Client Satisfaction" Award for Criminal Law by the American Institute of Criminal Law Attorneys in 2014 and 2015.
There is no time to waste when your freedom is on the line. Contact Gounaris Abboud, LPA, as soon as possible at (937) 222-1515 or reach us online.